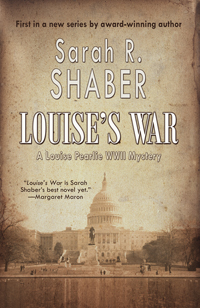 book details >>>
read an excerpt
larger view of cover
buy the book
LOUISE'S WAR
—A Louise Pearlie WWII Mystery
(Book 1)
Author: Sarah R. Shaber
First USA Edition 2015
5.5"x8.5" Trade Paperback
Retail: $14.95US; 192pp
ISBN 978-1-62268-072-6
LCCN 2015948686
LOUISE'S WAR
—A Louise Pearlie WWII Mystery
(Book 1)
Author: Sarah R. Shaber
---
It's 1942. Louise Pearlie, a young widow, has come to Washington DC to work for the legendary Office of Strategic Services, the precursor to the CIA. When she discovers a document concerning the husband of her college friend Rachel Bloch—a young French Jewish woman she is desperately worried about—Louise realizes she may be able to help Rachel escape from Vichy France. But then a colleague whose help Louise has enlisted is murdered, and she realizes she is on her own, unable to trust anyone . . . A Louise Pearlie WWII Mystery - Book 1.


---
Praise for LOUISE'S WAR
"I literally could not put it down. I finished it with tears in my eyes. With a historian's eye for the telling detail, Shaber captures the essence of Washington in 1942 with its paranoia, its secrecy, and its potential to let women reinvent themselves at a volatile time. Highly recommended."
—Margaret Maron
"Wonderfully drawn details of the World War II era . . . an auspicious debut."
—Library Journal
"Louise Pearlie is an appealing heroine, an intelligent woman trying to determine her role in a changing world. But, Shaber's strength, and the appeal of Louise's War, lies in the description and details of the war years and life at the time. I can't wait to see where she takes Louise in the next years."
—Lesa Holstine
"Shaber, the author of Shell Game (2007) and four other Simon Shaw mysteries, delivers a satisfying puzzle as well as a vivid picture of Washington during WWII."
—Publishers Weekly

Sarah R. Shaber is an award-winning mystery author from North Carolina. Her historical mystery series, published by Severn House, begins with LOUISE'S WAR (2010). It features Louise Pearlie, a young widow working for the Office of Strategic Services in Washington, DC, during World War II. Sequels are LOUISE'S GAMBLE, LOUISE'S DILEMMA, LOUISE'S BLUNDER, LOUISE'S CHANCE, and LOUISE'S LIES (Dec. 2016). An earlier series, the Professor Simon Shaw murder mysteries, are available as ebooks and trade paperbacks. She's also the author of a stand-alone horror novel, BLOOD TEST, and editor of TAR HEEL DEAD, a collection of short stories by North Carolina mystery writers. Her short stories appear in several anthologies, including CAROLINA CRIMES and MURDER UNDER THE OAKS. Shaber was the Bouchercon15 (World Mystery Conference) local guest of honor.
LOUISE'S WAR
LOUISE'S GAMBLE
LOUISE'S DILEMMA
THE FUGITIVE KING
SIMAN SAID
www.sarahrshaber.com
www.facebook.com/sarahrshaber; www.facebook.com/LouisePearlie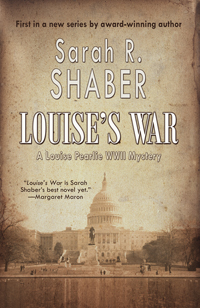 LOUISE'S WAR
—A Louise Pearlie WWII Mystery
(Book 1)
Author: Sarah R. Shaber
First USA Edition 2015
5.5"x8.5" Trade Paperback
Retail: $14.95US; 192pp
ISBN 978-1-62268-072-6
LCCN 2015948686
buy the book >>>
read an excerpt
book details
larger view of cover
To purchase from your local independent bookseller click here:


Purchase at amazon.com


Purchase at barnes&noble.com


Purchase at booksamillion.com:


NOTE TO BOOKSELLERS:
All Bella Rosa Book titles are available through
Ingram, Baker & Taylor, Brodart Company, Book Wholesalers, Inc. (BWI),
The Book House, Inc., and Follett distributors.

Booksellers, Schools, and Libraries can also purchase
direct from Bella Rosa Books.
For quantity discounts contact sales@bellarosabooks.com .