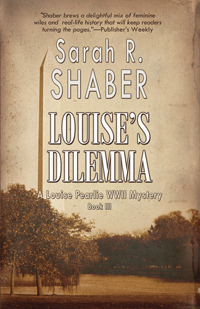 book details >>>
read an excerpt
larger view of cover
buy the book
LOUISE'S DILEMMA
—A Louise Pearlie WWII Mystery
(Book 3)
Author: Sarah R. Shaber
First USA Edition 2015
5.5"x8.5" Trade Paperback
Retail: $14.95US; 156pp
ISBN 978-1-62268-074-0
LCCN 2015948685
LOUISE'S DILEMMA
—A Louise Pearlie WWII Mystery
(Book 1)
Author: Sarah R. Shaber
---
Young widow Louise Pearlie seizes a chance to escape the typewriters and files of the Office of Strategic Services, the US's World War II spy agency, when she's asked to investigate a puzzling postcard referred to OSS by the US Censor. She and FBI agent Gray Williams head off to St. Leonard, Maryland, to talk to the postcard's recipient, one Leroy Martin. But what seemed like a straightforward mission to Louise soon becomes complicated. Leroy and his wife, Anne, refuse to talk, but as Louise and Williams investigate, it soon becomes clear that Leroy is mixed up in something that looks a lot like treason. But what? Louise is determined to find out the truth, whatever the cost . . .

---
Praise for LOUISE'S DILEMMA
"Shaber does a nice job of creating a WWII-era atmosphere without weighing readers down with too much period window dressing. A very good entry in this new and promising series."
—Booklist
"This is a fun series: an entertaining combination of mystery, adventure, and romance, with a great sense of place and time."
—Historical Novel Society

Sarah R. Shaber is an award-winning mystery author from North Carolina. Her historical mystery series, published by Severn House, begins with LOUISE'S WAR (2010). It features Louise Pearlie, a young widow working for the Office of Strategic Services in Washington, DC, during World War II. Sequels are LOUISE'S GAMBLE, LOUISE'S DILEMMA, LOUISE'S BLUNDER, LOUISE'S CHANCE, and LOUISE'S LIES (Dec. 2016). An earlier series, the Professor Simon Shaw murder mysteries, are available as ebooks and trade paperbacks. She's also the author of a stand-alone horror novel, BLOOD TEST, and editor of TAR HEEL DEAD, a collection of short stories by North Carolina mystery writers. Her short stories appear in several anthologies, including CAROLINA CRIMES and MURDER UNDER THE OAKS. Shaber was the Bouchercon15 (World Mystery Conference) local guest of honor.
LOUISE'S WAR
LOUISE'S GAMBLE
LOUISE'S DILEMMA
THE FUGITIVE KING
SIMAN SAID
www.sarahrshaber.com
www.facebook.com/sarahrshaber; www.facebook.com/LouisePearlie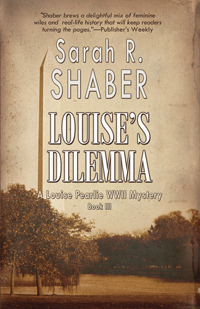 LOUISE'S DILEMMA
—A Louise Pearlie WWII Mystery
(Book 3)
Author: Sarah R. Shaber
First USA Edition 2015
5.5"x8.5" Trade Paperback
Retail: $14.95US; 156pp
ISBN 978-1-62268-074-0
LCCN 2015948685
buy the book >>>
read an excerpt
book details
larger view of cover
To purchase from your local independent bookseller click here:


Purchase at amazon.com


Purchase at barnes&noble.com


Purchase at booksamillion.com:


NOTE TO BOOKSELLERS:
All Bella Rosa Book titles are available through
Ingram, Baker & Taylor, Brodart Company, Book Wholesalers, Inc. (BWI),
The Book House, Inc., and Follett distributors.

Booksellers, Schools, and Libraries can also purchase
direct from Bella Rosa Books.
For quantity discounts contact sales@bellarosabooks.com .