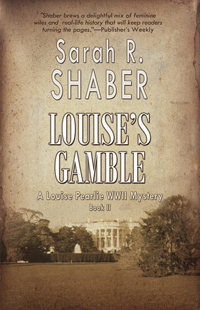 book details >>>
read an excerpt
larger view of cover
buy the book
LOUISE'S GAMBLE
—A Louise Pearlie WWII Mystery
(Book 2)
Author: Sarah R. Shaber
First USA Edition 2015
5.5"x8.5" Trade Paperback
Retail: $14.95US; 192pp
ISBN 978-1-62268-073-3
LCCN 2015912847
LOUISE'S GAMBLE
—A Louise Pearlie WWII Mystery
(Book 1)
Author: Sarah R. Shaber
---
Young widow Louise Pearlie becomes embroiled in a perilous game of mafia bosses, Nazi spies and banished royalty in this wartime novel of suspense.
It's 1942 in Washington DC. Louise Pearlie is now a chief file clerk at the legendary OSS, the precursor to the CIA, and enjoying being an independent, working woman despite wartime privations. But a casual friendship struck up with Alessa di Luca, a secretive war refugee, sucks Louise into a dangerous game of mafia bosses, Nazi spies, banished royalty and Sicilian aristocracy—placing not only her job, but her life, in jeopardy . . . A Louise Pearlie WWII Mystery - Book II.

---
Praise for LOUISE'S GAMBLE
"Winning . . . Shaber brews a delightful mix of feminine wiles and real-life history that will keep readers turning the pages."
—Publisher's Weekly
"Shaber plunges readers into the life of a widow, a working woman in the middle of the war-time shortages and secrets. The suspense and details of life in 1942 all add up to a fascinating story."
—Lesa's Book Reviews
"This is the second in a series set in Washington, DC during WWII. Shaber has created a wonderful cast of characters, and the descriptions of 1940s life, including shopping, dining at the Mayflower Hotel, working at the OSS, and living at a boarding house make for a wonderfully entertaining read."
—Historical Novel Society


Sarah R. Shaber is an award-winning mystery author from North Carolina. Her historical mystery series, published by Severn House, begins with LOUISE'S WAR (2010). It features Louise Pearlie, a young widow working for the Office of Strategic Services in Washington, DC, during World War II. Sequels are LOUISE'S GAMBLE, LOUISE'S DILEMMA, LOUISE'S BLUNDER, LOUISE'S CHANCE, and LOUISE'S LIES (Dec. 2016). An earlier series, the Professor Simon Shaw murder mysteries, are available as ebooks and trade paperbacks. She's also the author of a stand-alone horror novel, BLOOD TEST, and editor of TAR HEEL DEAD, a collection of short stories by North Carolina mystery writers. Her short stories appear in several anthologies, including CAROLINA CRIMES and MURDER UNDER THE OAKS. Shaber was the Bouchercon15 (World Mystery Conference) local guest of honor.
LOUISE'S WAR
LOUISE'S GAMBLE
LOUISE'S DILEMMA
THE FUGITIVE KING
SIMAN SAID
www.sarahrshaber.com
www.facebook.com/sarahrshaber; www.facebook.com/LouisePearlie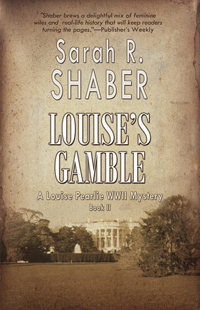 LOUISE'S GAMBLE
—A Louise Pearlie WWII Mystery
(Book 2)
Author: Sarah R. Shaber
First USA Edition 2015
5.5"x8.5" Trade Paperback
Retail: $14.95US; 192pp
ISBN 978-1-62268-073-3
LCCN 2015912847
buy the book >>>
read an excerpt
book details
larger view of cover
To purchase from your local independent bookseller click here:


Purchase at amazon.com


Purchase at barnes&noble.com


Purchase at booksamillion.com:


NOTE TO BOOKSELLERS:
All Bella Rosa Book titles are available through
Ingram, Baker & Taylor, Brodart Company, Book Wholesalers, Inc. (BWI),
The Book House, Inc., and Follett distributors.

Booksellers, Schools, and Libraries can also purchase
direct from Bella Rosa Books.
For quantity discounts contact sales@bellarosabooks.com .