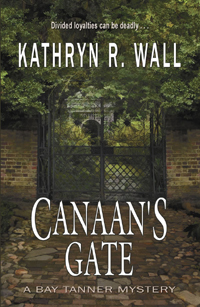 book details >>>
read an excerpt
larger view of cover
buy the book
CANAAN'S GATE
—A Bay Tanner Mystery
(10th in the series)
Author: Kathryn R. Wall
2013 Reissue Edition
5.5"x8.5" Trade Paperback
Retail: $14.95; 288pp
ISBN 978-1-62268-036-8
LCCN 2013938508
CANAAN'S GATE
—A Bay Tanner Mystery
(10th in the series)
Author: Kathryn R. Wall
---
Divided loyalties can be deadly . . .
When bank employee Cecelia Dobbs approaches Bay Tanner's inquiry agency, Bay has no idea her association with the awkward young woman will lead to murder. Concerned that one of her colleagues may be running a scam on the elderly and very wealthy Castlemains of Hilton Head Island, Cecelia is seeking proof she can take to the authorities. The other object of her suspicion is the couple's caretaker, flamboyant Kendra Blaine, whose interest in teller Dalton Chambers may be more than just as partners-in-crime. When Mrs. Castlemain dies suddenly of an apparent heart attack less than twenty-four hours after she accepts the case, Bay is stunned.
Still mourning the loss of her father, Bay is also trying to adjust to her recent marriage. Since joining Bay's staff, Red has been chafing under the constraints of working for his wife, and Bay finds herself wondering if something deeper is amiss with their relationship.
Then Cecelia disappears, and the Castlemains' grandson, Washington lobbyist Nicholas Potter, tries to hire the agency to investigate Kendra. He, too, believes she could be dangerous—or so he claims. Torn between her unwilling attraction to the charismatic Nick and her growing fears about Cecelia, Bay discovers that divided loyalties can be painful—and sometimes fatal.

---
"Sue Grafton, Sara Paretsky, and Marcia Muller come to mind as the quintessential writers of the modern female private eye novel. Wall, in a quiet and unassuming way, has produced a body of work of equal quality. Highly recommended."
—Library Journal


About the Author >>>


Kathryn R. Wall wrote her first story at the age of six, then decided to take a few decades off. She grew up in a small town in northeastern Ohio and attended college both there and in Pennsylvania. For twenty-five years she practiced her pro-fession as an accountant in both public and private practice. In 1994, she and her husband, Norman, settled on Hilton Head Island.
Wall has been a mentor in the local schools and has served on the boards of Literacy Volunteers of the Lowcountry, Mystery Writers of America, and Sisters in Crime. She is also a founding member of the Island Writers Network on Hilton Head.
Wall is the author of the Bay Tanner mysteries:
IN FOR A PENNY
AND NOT A PENNY MORE
PERDITION HOUSE
JUDAS ISLAND
RESURRECTION ROAD
BISHOP'S REACH
SANCTUARY HILL
THE MERCY OAK
COVENANT HALL
CANAAN'S GATE
JERICHO CAY
ST. JOHN'S FOLLY
LIKE A BAD PENNY (ebook short story)
JORDAN POINT
All the novels are set on Hilton Head Island and in the surrounding South Carolina Lowcountry.
visit Kathryn online at: www.kathrynwall.com
CANAAN'S GATE
—A Bay Tanner Mystery
(10th in the series)
Author: Kathryn R. Wall
2013 Reissue Edition
5.5"x8.5" Trade Paperback
Retail: $14.95; 288pp
ISBN 978-1-62268-036-8
LCCN 2013938508

buy the book >>>
read an excerpt
book details
larger view of cover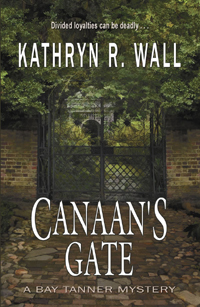 To purchase from your local independent bookseller click here:


Purchase at amazon.com


Purchase at barnes&noble.com


Purchase at booksamillion.com:


NOTE TO BOOKSELLERS:
All Bella Rosa Book titles are available through
Ingram, Baker & Taylor, Brodart Company, Book Wholesalers, Inc. (BWI),
The Book House, Inc., and Follett distributors.

Booksellers, Schools, and Libraries can also purchase
direct from Bella Rosa Books.
For quantity discounts contact sales@bellarosabooks.com .