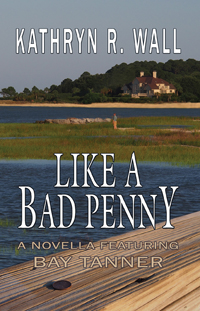 book details >>>
read an excerpt
larger view of cover
buy the book
LIKE A BAD PENNY
—A Novella Featuring Bay Tanner
(falls between book 12 and 13 in the series)
Author: Kathryn R. Wall
First Edition
ebook short story
Retail: $0.99US
ISBN 978-1-62268-078-8 ebook
LIKE A BAD PENNY
—A Novella Featuring Bay Tanner
(falls between book 12 and 13 in the series)
Author: Kathryn R. Wall
---
A novella featuring Bay Tanner.
Mystery novelist Elizabeth Stanton has been running from her past for more than fifteen years. Though her marriage has hit a rocky patch, she has finally begun to relax and enjoy her life on Hilton Head Island. Until the day the apparent stranger appears on the beach in front of her home. Six-year-old Maddy informs her mother of the man's attempt to lure her away, and Liz does what she's always done—she runs. But even in the warmth of her surrogate parents' home, she knows she's only postponing the inevitable. Mikey Holloway must be stopped. Permanently.
With Maddy safely stashed away, Liz Stanton is determined to rid herself and her family of the menace that has haunted her life and her dreams. Bay Tanner, a local private investigator and one of Liz's most trusted resources, has always been willing to offer advice, but now the stakes are much higher. Now the two must formulate a plot that will free Liz of the nightmare while keeping both of them out of jail . . . and alive.

---
"Sue Grafton, Sara Paretsky, and Marcia Muller come to mind as the quintessential writers of the modern female private eye novel. Wall, in a quiet and unassuming way, has produced a body of work of equal quality. Highly recommended."
—Library Journal

About the Author >>>


Kathryn R. Wall wrote her first story at the age of six, then decided to take a few decades off. She grew up in a small town in northeastern Ohio and attended college both there and in Pennsylvania. For twenty-five years she practiced her pro-fession as an accountant in both public and private practice. In 1994, she and her husband, Norman, settled on Hilton Head Island.
Wall has been a mentor in the local schools and has served on the boards of Literacy Volunteers of the Lowcountry, Mystery Writers of America, and Sisters in Crime. She is also a founding member of the Island Writers Network on Hilton Head.
Wall is the author of the Bay Tanner mysteries:
IN FOR A PENNY
AND NOT A PENNY MORE
PERDITION HOUSE
JUDAS ISLAND
RESURRECTION ROAD
BISHOP'S REACH
SANCTUARY HILL
THE MERCY OAK
COVENANT HALL
CANAAN'S GATE
JERICHO CAY
ST. JOHN'S FOLLY
LIKE A BAD PENNY (ebook short story)
JORDAN POINT
All the novels are set on Hilton Head Island and in the surrounding South Carolina Lowcountry.
visit Kathryn online at: www.kathrynwall.com
LIKE A BAD PENNY
—A Novella Featuring Bay Tanner
(falls between book 12 and 13 in the series)
Author: Kathryn R. Wall
First Edition 2014
ebook short story
Retail: $0.99US
ISBN 978-1-62268-078-8 ebook
buy the book >>>
read an excerpt
book details
larger view of cover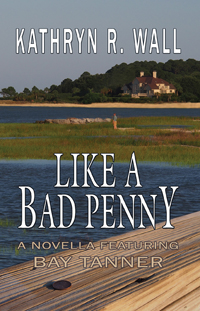 To purchase from your local independent bookseller click here:


Purchase at amazon.com


Purchase at barnes&noble.com


Purchase at booksamillion.com:


NOTE TO BOOKSELLERS:
All Bella Rosa Book titles are available through
Ingram, Baker & Taylor, Brodart Company, Book Wholesalers, Inc. (BWI),
The Book House, Inc., and Follett distributors.

Booksellers, Schools, and Libraries can also purchase
direct from Bella Rosa Books.
For quantity discounts contact sales@bellarosabooks.com .