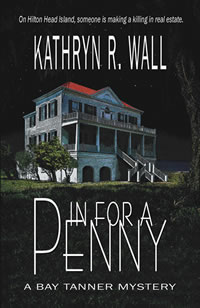 IN FOR A PENNY
A Bay Tanner Mystery
First in the Series
Author: Kathryn R. Wall
2006 Reissue Edition
5.5"x 8.5" Trade Paperback
Retail $14.95US; 272pp
ISBN 978-1-933523-12-5 print
ISBN 978-1-933523-83-5 e-book
book details >>>
cover details
buy the book
read an excerpt

IN FOR A PENNY
The First Bay Tanner Mystery
Author: Kathryn R. Wall
---
On Hilton Head Island, someone is making a killing in real estate.


Bay Tanner's world is paradise until she witnesses her husband's horrific death. Badly injured in the deliberate explosion of his small plane, she retreats to her beach house on Hilton Head Island to heal her wounds and grieve until a cry for help forces her out of her self-imposed exile.
Adelaide Boyce Hammond, spinster daughter of an aristocratic Beaufort family, has invested most of her dwindling capital in a development scheme that seems to be unraveling at an alarming rate. Preservationists and environmentalists have joined forces in an attempt to thwart the project, and there are rumors flying around the South Carolina Lowcountry about Geoffrey Anderson, head of the development group and the man a teenaged Bay once idolized.
Can the former accountant and financial advisor ignore the plight of her "old money" friends and family, especially her father, retired Judge Talbot Simpson, whose involvement in the shadowy scheme may lead him to financial disaster? And what does all this have to do with her husband's murder? When a body is discovered floating near the ruins of an old plantation house on the proposed site of the development, Bay is forced to confront her fears and admit that one thing is certain-someone is making a killing in real estate.
---
"Sue Grafton, Sara Paretsky, and Marcia Muller come to mind as the quintessential writers of the modern female private eye novel. Wall, in a quiet and unassuming way, has produced a body of work of equal quality. Highly recommended."
—Library Journal

About the Author >>>


Kathryn R. Wall wrote her first story at the age of six, then decided to take a few decades off. She grew up in a small town in northeastern Ohio and attended college both there and in Pennsylvania. For twenty-five years she practiced her pro-fession as an accountant in both public and private practice. In 1994, she and her husband, Norman, settled on Hilton Head Island.
Wall has been a mentor in the local schools and has served on the boards of Literacy Volunteers of the Lowcountry, Mystery Writers of America, and Sisters in Crime. She is also a founding member of the Island Writers Network on Hilton Head.
Wall is the author of the Bay Tanner mysteries:
IN FOR A PENNY
AND NOT A PENNY MORE
PERDITION HOUSE
JUDAS ISLAND
RESURRECTION ROAD
BISHOP'S REACH
SANCTUARY HILL
THE MERCY OAK
COVENANT HALL
CANAAN'S GATE
JERICHO CAY
ST. JOHN'S FOLLY
LIKE A BAD PENNY (ebook short story)
JORDAN POINT
All the novels are set on Hilton Head Island and in the surrounding South Carolina Lowcountry.
visit Kathryn online at: www.kathrynwall.com
IN FOR A PENNY
A Bay Tanner Mystery
First in the Series
Author: Kathryn R. Wall
2006 Reissue Edition
5.5"x 8.5" Trade Paperback
Retail $14.95US; 272pp
ISBN 978-1-933523-12-5 print
ISBN 978-1-933523-83-5 e-book
buy the book >>>
book details
read an excerpt
cover details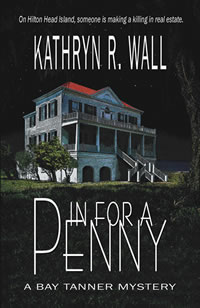 To purchase from your local independent bookseller click here:


Purchase at amazon.com


Purchase at barnes&noble.com


Purchase at booksamillion.com:


Or you may order direct from Bella Rosa Books using PAYPAL.
$15.00 Includes shipping & handling worldwide.
Click the button below to begin the order process.

Or contact us at sales@bellarosabooks.com .
Also available as Unabridged Audible Audio Edition
NOTE TO BOOKSELLERS:
All Bella Rosa Books titles are available through Ingram, Baker & Taylor, Brodart, Follett, BWI, The Book House, Inc., Emery-Pratt, Ambassador Books.
Booksellers, Schools, Libraries, and individuals can also purchase direct from Bella Rosa Books. For quantity discounts contact sales@bellarosabooks.com .