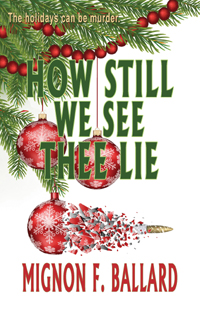 HOW STILL WE SEE THEE LIE
Author: Mignon F. Ballard
2013 Reissue Edition
Retail $14.95; 216pp
ISBN 978-1-62268-054-2 print
ISBN 978-1-62268-055-9 e-book
LCCN 2013953697
book details >>>
read an excerpt
larger view of cover
buy the book
HOW STILL WE SEE THEE LIE
Author: Mignon F. Ballard
---

Candles are gleaming, carolers, singing, and Christmas bells are joyfully ringing, but all is not well in Harmony. Residents of the small Georgia town are busily preparing for pageants and parties, and Molly Stonehouse, spending the holidays with her late husband's aunts on Muscadine Hill, is still anguished over the puzzling accidents that killed her husband and his friend Neil Fry months before. As children, both men had promised never to reveal a fearful secret, and now a pattern of threatening events emerge to warn Molly that among the mistletoe and merrymaking, a frightening drama is unfolding.
---
"Ballard is a superb storyteller."
—Charlotte Observer
About the Author >>>
Mignon Ballard earned a degree in journalism from the University of Georgia, and is the author of the Augusta Goodnight Mysteries, the Miss Dimple series, The Christmas Cottage, an inspirational fantasy for "grownups who still believe in magic," and nine previous novels. Further information on Mignon's books can be found at her website, www.mignonballard.com. She recently returned to her hometown of Calhoun, Georgia, where she now lives.
FINAL CURTAIN
CRY AT DUSK
HOW STILL WE SEE THEE LIE
RAVEN ROCK
THE CHRISTMAS COTTAGE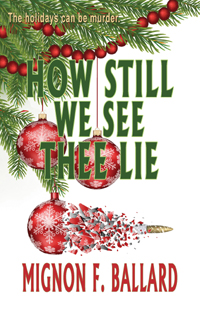 HOW STILL WE SEE THEE LIE
Author: Mignon F. Ballard
2013 Reissue Edition
Retail $14.95; 216pp
ISBN 978-1-62268-054-2 print
ISBN 978-1-62268-055-9 e-book
LCCN 2013953697
read an excerpt
book details
larger view of cover
buy the book >>>

To purchase from your local independent bookseller click here:


Purchase at amazon.com


Purchase at barnes&noble.com


Purchase at booksamillion.com:


NOTE TO BOOKSELLERS:
All Bella Rosa Book titles are available through
Ingram, Baker & Taylor, Brodart Company, Book Wholesalers, Inc. (BWI),
The Book House, Inc., and Follett distributors.

Booksellers, Schools, and Libraries can also purchase
direct from Bella Rosa Books.
For quantity discounts contact sales@bellarosabooks.com .