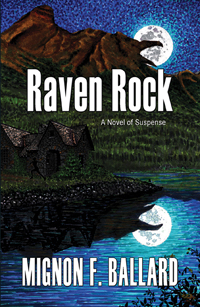 book details >>>
read an excerpt
cover detail
buy the book


RAVEN ROCK
Author: Mignon F. Ballard
2015 Reissue Edition
5.5"x8.5" Trade Paperback
Retail: $14.95US; 204pp
ISBN 978-1-62268-086-3 print
ISBN 978-1-62268-087-0 ebook
LCCN 2014957745
---
Searching for the mother who had abandoned her as an infant, Henrietta Meredith is drawn to Raven Rock, a small town in the mountains of North Carolina, and to the long-neglected Honeysuckle House where her mother once lived. Why did terrified Maggie Grey leave her baby with the kindly middle-aged Merediths promising to return, only to disappear forever? And what is the link between the faded snapshot of a group of young women and the dark period in the town's past?
In her efforts to uncover the truth, Henrietta awakens a dormant evil, endangering her own life and the lives of those around her, the friendly people who had made a place for her in the community. Can one of them be hiding a dreadful secret?
Here is the engrossing story of a young woman whose quest leads her down a dangerous, twisting path to a confrontation with unthinkable evil.

---
"This is a thoroughly enjoyable mystery with the various strands tied up into a satisfying whole."
—The Atlanta Constitution
"Ballard is a superb storyteller."
—Charlotte Observer
About the Author >>>
Mignon Ballard earned a degree in journalism from the University of Georgia, and is the author of the Augusta Goodnight Mysteries, the Miss Dimple series, The Christmas Cottage, an inspirational fantasy for "grownups who still believe in magic," and nine previous novels. Further information on Mignon's books can be found at her website, www.mignonballard.com. She recently returned to her hometown of Calhoun, Georgia, where she now lives.
FINAL CURTAIN
CRY AT DUSK
HOW STILL WE SEE THEE LIE
RAVEN ROCK
THE CHRISTMAS COTTAGE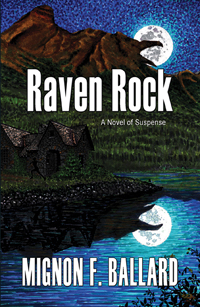 RAVEN ROCK
Author: Mignon F. Ballard
2015 Reissue Edition
5.5"x8.5" Trade Paperback
Retail: $14.95US; 204pp
ISBN 978-1-62268-086-3 print
ISBN 978-1-62268-087-0 ebook
LCCN 2014957745
buy the book >>>
read an excerpt
book details
cover detail

To purchase from your local independent bookseller click here:


Purchase at amazon.com


Purchase at barnes&noble.com


Purchase at booksamillion.com:



NOTE TO BOOKSELLERS:
All Bella Rosa Books titles are available through Ingram, Baker & Taylor, Brodart, Follett, BWI, The Book House, Inc., Emery-Pratt, Ambassador Books.
Booksellers, Schools, Libraries, and individuals can also purchase direct from Bella Rosa Books. For quantity discounts contact sales@bellarosabooks.com .