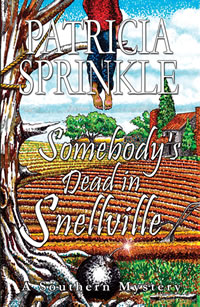 book details >>>
read an excerpt
larger view of cover
buy the book
SOMEBODY'S DEAD IN SNELLVILLE
—A Southern Mystery
Fourth in the Sheila Travis series
Author: Patricia Sprinkle
2014 Reissue Edition
5.5"x8.5" Trade Paperback
Retail: $14.95US; 242pp
ISBN 978-1-62268-089-4 print
ISBN 978-1-62268-090-0 ebook
LCCN 2014957744
SOMEBODY'S DEAD IN SNELLVILLE
—A Southern Mystery
Fourth in the Sheila Travis series
Author: Patricia Sprinkle
---
After her most recent foray into detection, Sheila Travis is more than happy to concentrate on her job as Director of International Relations for Hosokawa International. Unfortunately, her relative peace and quiet is short-lived.
Coming home from an exhausting business trip, all Sheila wants to do is go to sleep. Instead, she is dragooned by her young neighbor. Sara Sims Tait into a Sims family dinner out in Gwinnett County.
Each day, the greater metropolitan area of Atlanta moves a little further into Gwinnett County, and Sara Sims's contentious family—part upwardly mobile, part solid dirt farmers—sees big dollar signs when major developers express interest in Grandma Sims's farmland. Too bad she won't sell.
Greed and anger are powerful influences, but when the murderer strikes, Grandma Sims is not the victim, and it is up to Sheila and her irrepressible, aristocratic Aunt Mary to untangle the complicated web of motives, opportunities, and relationships that connect the Sims family to murder.


---
"Engaging . . . Compelling . . . A delightful thriller."
—Peachtree magazine
"Sparkling . . . Witty . . . A real treat and as refreshing as a mint julep, a true Southern pleasure."
—Romantic Times
About the Author

PATRICIA SPRINKLE draws on her deep Southern roots to write three Southern mystery series. For a complete list of titles, see www.patriciasprinkle.com. She now lives in Oregon, and when she's not writing, likes to read, swim, work with children, and do nothing.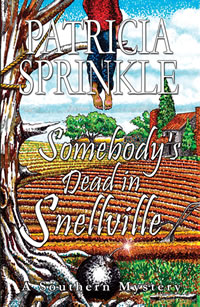 SOMEBODY'S DEAD IN SNELLVILLE
—A Southern Mystery
Fourth in the Sheila Travis series
Author: Patricia Sprinkle
2014 Reissue Edition
5.5"x8.5" Trade Paperback
Retail: $14.95US; 242pp
ISBN 978-1-62268-089-4 print
ISBN 978-1-62268-090-0 ebook
LCCN 2014957744
buy the book >>>
read an excerpt
book details
larger view of cover
To purchase from your local independent bookseller click here:


Purchase at amazon.com


Purchase at barnes&noble.com


Purchase at booksamillion.com:


NOTE TO BOOKSELLERS:
All Bella Rosa Book titles are available through
Ingram, Baker & Taylor, Brodart Company, Book Wholesalers, Inc. (BWI),
The Book House, Inc., and Follett distributors.

Booksellers, Schools, and Libraries can also purchase
direct from Bella Rosa Books.
For quantity discounts contact sales@bellarosabooks.com .