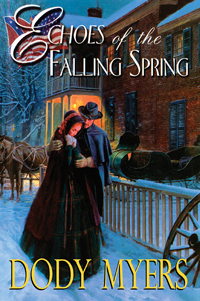 ECHOES OF THE
FALLING SPRING
Author: Dody Myers
2013 Reissue Edition
Trade Paperback, 6"x 9"
$14.95US; 228pp
ISBN 978-1-62268-043-6 print
ISBN 978-1-62268-044-3 ebook
LCCN 2013948889

synopsis >>>
read an excerpt
cover detail
buy the book
ECHOES OF THE FALLING SPRING
Author: Dody Myers

---
Abby Kennedy is a strong-willed farm girl from the small border town of Chambersburg, Pennsylvania. Revenge for an invader's rape of her sister induces Abby to become a Yankee spy and vow vengeance against anything or anyone Southern.
On the other side, Confederate Captain Ford McKenzie has been betrayed by one woman and promises that it will never happen again. Besides, he cherishes his plantation home on St. Simons Island and cannot imagine life anywhere but in the Deep South. Then he meets Abby.
During the Civil War the Confederate army invaded the North, passing through Chambersburg three times. The invasions resulted in the Battles of Antietam and Gettysburg as well as the destruction of the town itself in 1864. The twists and turns of the Civil War add greatly to the extraordinary obstacles placed on these individuals. Ford's loyal black slave, Esau, and Abby's free black servant, Ila, are drawn into the conflict of the times as well as a love of their own.
Echoes Of The Falling Spring follows these dual love stories, while they are constantly tested and clouded by the terrible conflict of the American Civil War.
The Echoes Trilogy:
ECHOES OF THE FALLING SPRING
ECHOES FROM THE MIST
ONLY ECHOES REMAIN
---
"Very well written...readable narrative...passages on the burning of Chambersburg and life in coastal Georgia are well done...an appealing love story...significant insights into the Civil War, particularly in relation to the Cumberland Valley and the Chambersburg area."
—Ted Alexander, author and historian
About the Author >>>
Dody Myers is the author of one contemporary and five historical novels. In the historical novels she blends historical fact and real people with fictional characters to put a human face on our past.
She divides her time between Chambersburg, Pennsylvania and St. Simons Island, Georgia.
The Echoes Trilogy:
ECHOES OF THE FALLING SPRING
ECHOES FROM THE MIST
ONLY ECHOES REMAIN
FREDERICA SUMMER
TO LOVE AGAIN
THE REBERTS OF LITTLESTOWN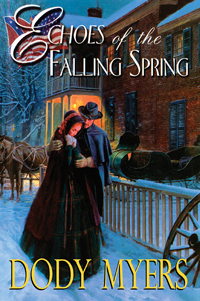 ECHOES OF THE
FALLING SPRING
Author: Dody Myers
2013 Reissue Edition
Trade Paperback, 6"x 9"
$14.95US; 228pp
ISBN 978-1-62268-043-6 print
ISBN 978-1-62268-044-3 ebook
LCCN 2013948889
buy the book >>>
book details
read an excerpt
cover detail

To purchase from your local independent bookseller click here:


Purchase at amazon.com


Purchase at barnes&noble.com


Purchase at booksamillion.com:



NOTE TO BOOKSELLERS:
All Bella Rosa Books titles are available through Ingram, Baker & Taylor, Brodart, Follett, BWI, The Book House, Inc., Emery-Pratt, Ambassador Books.
Booksellers, Schools, Libraries, and individuals can also purchase direct from Bella Rosa Books. For quantity discounts contact sales@bellarosabooks.com .