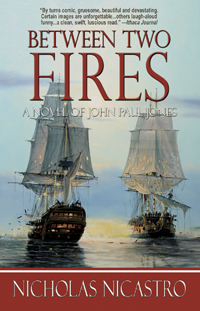 book details >>>
read an excerpt
larger view of cover
buy the book
BETWEEN TWO FIRES
A Novel of John Paul Jones (#2)
Author: Nicholas Nicastro
2013 Reissue Edition
5.5"x 8.5" Trade Paperback
Retail $16.95; 324pp
ISBN 978-1-62268-058-0 print
ISBN 978-1-62268-059-7 e-book
LCCN 2013953698
BETWEEN TWO FIRES
A Novel of John Paul Jones (Vol. 2)
Author: Nicholas Nicastro
---
In the second of his John Paul Jones novels, Nicastro tells the story of America's first naval hero during the prime of his spectacular yet tragic career. Commanding his small, bitterly divided squadron deep into enemy waters, Jones must master both the opposition and himself as he joins the battle that will seal his fame.
Meanwhile, his former comrade John Severence confronts another, more ominous brand of warfare on the frontiers of colonial New York. Both men are transformed in the crucible of combat, courage, and wartime folly.

---
"Nicholas Nicastro gives us a nuanced, insightful and thoroughly believable portrait of an American hero few know beyond his statement 'I have not yet begun to fight.' Nicastro does what the artist can do and the historian cannot, and he does it very well, showing us our American Tragic Hero, great but flawed, a conqueror brought down by his own faults."
—James L. Nelson, the Revolution at Sea Saga
"Between Two Fires is at once a cautionary take and a great period yarn with extraordinary characters...the final chapters are filled with as many twists and turns as a tacking frigate."
—Pamela Goddard, Ithaca Times

About the Author >>>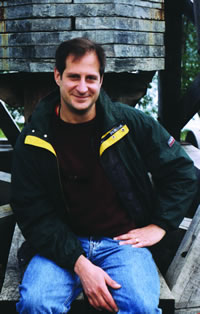 Nicholas Nicastro was born in Astoria, New York sometime in the previous century CE. His education includes a B.A. in English from Cornell University (1985), an M.F.A. in filmmaking from New York University (1991), an M.A. in archaeology and a Ph.D in psychology from Cornell (1996 and 2003). He has also worked as a film critic, a hospital orderly, a newspaper reporter, a library archivist, a college lecturer in anthropology and psychology, an animal behaviorist, and an advertising salesman. His writings include short fiction, travel and science articles in such publications as The New York Times, The New York Observer, Film Comment, and The International Herald Tribune.
Check out the author's webpage at: www.nicastrobooks.com
THE EIGHTEENTH CAPTAIN
BETWEEN TWO FIRES
ANTIGONE'S WAKE

BETWEEN TWO FIRES
A Novel of John Paul Jones (#2)
Author: Nicholas Nicastro
2013 Reissue Edition
5.5"x 8.5" Trade Paperback
Retail $16.95; 324pp
ISBN 978-1-62268-058-0 print
ISBN 978-1-62268-059-7 e-book
LCCN 2013953698

buy the book >>>
read an excerpt
book details
larger view of cover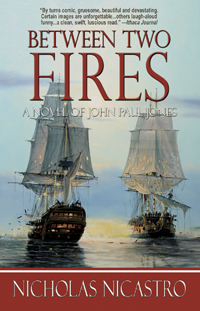 To purchase from your local independent bookseller click here:


Purchase at amazon.com


Purchase at barnes&noble.com


Purchase at booksamillion.com:


NOTE TO BOOKSELLERS:
All Bella Rosa Book titles are available through
Ingram, Baker & Taylor, Brodart Company, Book Wholesalers, Inc. (BWI),
The Book House, Inc., and Follett distributors.

Booksellers, Schools, and Libraries can also purchase
direct from Bella Rosa Books.
For quantity discounts contact sales@bellarosabooks.com .