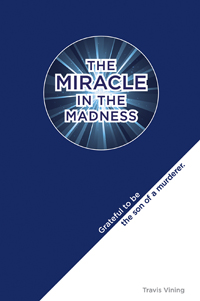 First Edition
5"x8" Trade Paperback
Retail: $14.95US
ISBN 978-1-62268-133-4
LCCN 2017964024
Also available as ebook
ISBN 978-1-62268-134-1

larger view of cover
read an excerpt
buy the book
book details >>>
THE MIRACLE IN THE MADNESS
—Grateful to be the son of a murderer

Author: Travis Vining

---
My father was a cold-blooded killer. He made me his confidante as he planned and committed several murders. Dad enjoyed telling me about his crimes. He then used me to help him destroy evidence when he sensed I might go to the police and turn him in.
I spent years burying this secret so that it would never see the light of day. Secrets became my chosen method of dealing with unwelcome, painful and shameful experiences. I discovered the hard way that hiding from one's past does not work. My secrets, like my Dad, took me to hell and nearly killed me. Much to my surprise, this turned out to be a gift. I discovered that no matter how dark or how painful an experience may be, there is always A Miracle that can be found in the madness.
We too often view misfortune as an attack, an intrusion in life, and see ourselves as victims. In an odd twist of irony, these unforgivable experiences in life actually hold the key to our freedom from suffering. The story, and process outlined in The Miracle in The Madness reveals exactly how to transform this misery into a priceless gift.
About the Author:
Author and Inspirational Speaker Travis Vining shares his experience from the real-life horrors of learning his own father was a serial killer. Travis details the grueling mental, physical and emotional journey that eventually became the springboard to a stunning transformation.
His website is www.miracleinmadness.com.
Travis Vining is the "real deal". His faith is profound and his teaching in this book could change your life and the lives of everyone you know. Read it! You'll "rise up and call me blessed" for having recommended it to you.
—Steve Brown, professor at Reformed Theological Seminary, Orlando;
author and teacher on Key Life, nationally syndicated radio program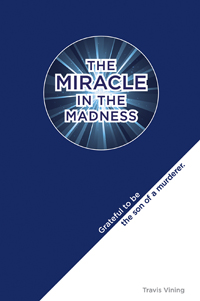 First Edition
5"x8" Trade Paperback
Retail: $14.95US
ISBN 978-1-62268-133-4
LCCN 2017964024
Also available as ebook
ISBN 978-1-62268-134-1
book details
cover detail
read an excerpt
buy the book >>>
THE MIRACLE IN THE MADNESS
—Grateful to be the son of a murderer
Author: Travis Vining

To purchase from your local independent bookseller click here:


Purchase at amazon.com


Purchase at barnes&noble.com


Purchase at booksamillion.com:


NOTE TO BOOKSELLERS:
All Bella Rosa Books titles are available through Ingram, Baker & Taylor, Brodart, Follett, BWI, The Book House, Inc., Emery-Pratt, Ambassador Books.
Booksellers, Schools, Libraries, and individuals can also purchase direct from Bella Rosa Books. For quantity discounts contact sales@bellarosabooks.com .