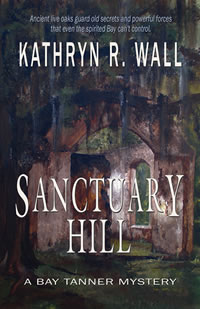 larger view of cover
buy the book
read chapter one
book details >>>
SANCTUARY HILL — A Bay Tanner Mystery
Author: Kathryn R. Wall
5.5"x8.5" Trade Paperback
$14.95US; 276pp
ISBN 978-1-933523-32-3
7th in the Bay Tanner Mystery Series
A freak summer storm has Bay Tanner, sometime private investigator, cooped up with her ailing father at his antebellum mansion near Hilton Head. Desperate for a distraction, Bay recovers a cooler bobbing along on the incoming tide. What she discovers inside will plunge her into a world of ancient magic where the power of the "root" has held sway since the days of the slave row. Suddenly, mysterious people and strange incidents, including a near-fatal accident, force her to realize that she may have unleashed something she can neither understand or escape.
Meanwhile, her investigation into the simple case of a runaway wife turns deadly. The police are eager to nail the wealthy, prominent husband for murder, but Bay's instincts tell her there's more to the story. Sheriff's Sergeant Red Tanner, her late husband's brother, warns her off the case, but Bay's never been good at taking orders. Soon she's working full-time to defend her client, who may not be as innocent as Bay would like to believe.
Time and again, every trail leads back to a mystical commune in the tangled backwoods of Beaufort County and to one of its leaders, a charismatic woman who believes in the real and malevolent power of the old ways. To find a killer, Bay must travel to the heart of this woman's world—and not everyone will escape the spell of Sanctuary Hill.
Reviews:
"Wall once again delivers credible characters, a gripping plot and pitch-perfect local color."
—Publisher's Weekly
"Curling up with a new Bay Tanner book feels just as it should--like settling in for tea with an interesting old friend, always familiar, yet always surprising."
—LowCountry Weekly

About the Author:
Kathryn R. Wall wrote her first story at the age of six, then decided to take a few decades off. She grew up in a small town in northeastern Ohio and attended college in both Ohio and Pennsylvania. For twenty-five years she practiced her profession as an accountant in both public and private practice. In 1994 she and her husband Norman retired to Hilton Head Island.
Wall is Treasurer of the Southeast Chapter of Mystery Writers of America and is National Publicity Chair of Sisters in Crime. She is also a founding member of the Island Writers' Network.
She is the author of eight Bay Tanner mysteries: In For a Penny, And Not a Penny More, Perdition House, Judas Island, Resurrection Road, Bishop's Reach, sanctuary Hill and The Mercy Oak. All the novels have achieved both commercial and critical success, and all take place in and around Hilton Head Island and the surrounding South Carolina Lowcountry.
visit Kathryn online at: www.kathrynwall.com

SANCTUARY HILL
Author: Kathryn R. Wall
5.5"x8.5" Trade Paperback
Retail: $14.95US

ISBN 978-1-933523-32-3
larger view of cover
buy the book >>>
read chapter one
book details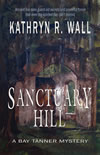 To purchase from your local independent bookseller click here:


Purchase at amazon.com


Purchase at barnes&noble.com

Purchase at booksamillion.com:


Or you may order direct from Bella Rosa Books using PAYPAL.
$17.00 Includes shipping & handling worldwide.
Click the button below to begin the order process.
BOOKSELLERS:
All Bella Rosa Book titles are available through
Ingram, Baker & Taylor, Brodart, Follett, BWI, The Book House, Inc., Emery-Pratt.

Booksellers, Schools, and Libraries can also purchase
direct from Bella Rosa Books.
For quantity discounts contact sales@bellarosabooks.com .