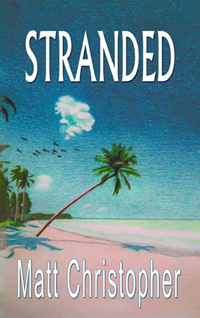 book details >>>
larger view of cover
buy the book
read an excerpt

A Matt Christopher Adventure Classic

STRANDED
Author: Matt Christopher
2010 Reissue Edition
Retail: $9.95US; 96pp
5"x 8" Trade Paperback
ISBN 978-1-933523-40-8 print
ISBN 978-1-62268-026-9 ebook
LCCN 2010929270

A young blind boy and his dog are stranded alone on an uninhabited Caribbean island after a hurricane shipwrecks the family's sailboat. His parents are washed overboard and disappear. Andy and Max, his faithful dog, must struggle together for survival.
About the Author:
Everyone knows Matt Christopher as the most prolific and bestselling sportswriter for children and young adults. From books on football and baseball to soccer and skateboarding, his work has spanned three generations of readers.
He has also written several Mystery/Suspense/Adventure novels which showcase his exceptional storytelling ability. His mystery books are sure to delight everyone--young and old:
EARTHQUAKE, DESPERATE SEARCH, DEVIL PONY, STRANDED, LOOK FOR THE BODY, THE MYSTERY UNDER FUGITIVE HOUSE, THE MYSTERY ON CRABTREE HILL, THE MYSTERY AT MONKEY RUN.

Visit the author's website at: www.mattchristopher.com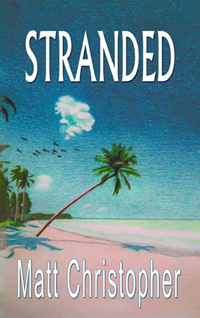 STRANDED
Author: Matt Christopher
2010 Reissue Edition
Retail: $9.95US; 96pp
5"x 8" Trade Paperback
ISBN 978-1-933523-40-8 print
ISBN 978-1-62268-026-9 ebook
LCCN 2010929270
buy the book >>>
read an excerpt
book details
larger view of cover
To purchase from your local independent bookseller click here:


Purchase at amazon.com


Purchase at barnes&noble.com


Purchase at booksamillion.com:


NOTE TO BOOKSELLERS:
All Bella Rosa Book titles are available through
Ingram, Baker & Taylor, Brodart Company, Book Wholesalers, Inc. (BWI),
The Book House, Inc., and Follett distributors.

Booksellers, Schools, and Libraries can also purchase
direct from Bella Rosa Books.
For quantity discounts contact sales@bellarosabooks.com .