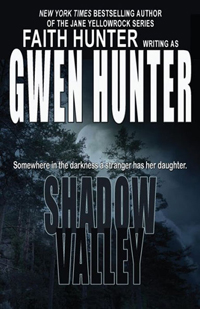 book details >>>
read an excerpt
cover detail
buy the book



SHADOW VALLEY
Author: Gwen Hunter (aka Faith Hunter)
2015 Reissue Edition
Retail: $15.95US
5.5"x 8.5" Trade Paperback
ISBN 978-1-62268-083-2 print
ISBN 978-1-62268-084-9 ebook
LCCN 2015934285
---
Mackenzie Morgan thinks she's doing the right thing by taking her teenaged daughter, Bella, into the Appalachians on a photography shoot. Fleeing a crumbling marriage, Mac needs time to bond with her daughter and escape the betrayal that still leaves her numb. But when a drifter abducts Bella and carries her deep into the steep mountain woods, Mac must draw on her deepest reserves to fight for her daughter's safe return.
When her soon-to-be ex-husband arrives, old wounds flare, and Mac turns to Caleb Howell, a local tracker, who helps keep her focused on the most important task: finding Bella. Then astonishing evidence comes to light that reveals the abduction was not as random as they first believed. As hours turn into days, Mac struggles to keep her hope—and her terrified daughter—alive.

---
"Hunter keeps the story moving at such a breakneck pace that it's hard to put this book down. Gritty and occasionally violent, it often finds relief through humor and the romance developing between Mac and Caleb."
—ROMANTIC TIMES MAGAZINE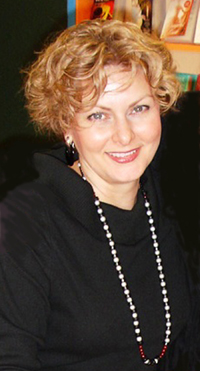 photo by Alison Singleton
About the Author:
Under the pen names, Gary Hunter, Gwen Hunter, and Faith Hunter, the author writes action adventure, mysteries, thrillers, Fantasy and Urban Fantasy with over 37 books in print in 30 countries.
Along with eight other writers, Hunter participates in a writing forum called www.magicalwords.net, geared to helping writers of fantasy and other genres.
Hunter was born in Louisiana and was raised all over the South. She fell in love with reading in the fifth grade, and loved Si-Fi, fantasy, thrillers, and gothic mystery, with a secret passion for romance novels. She decided to become a writer in high school, when a teacher told her she had talent. She now writes full-time and tries to keep house, is a workaholic with a passion for travel, jewelry making, whitewater kayaking. She and her husband love to travel with their dogs in their RV to rivers all over the Southeast.
For more information please visit www.faithhunter.net, www.gwenhunter.com, and www.magicalwords.net.
And on FaceBook:
www.facebook.com/#!/gwen.hunter1
www.facebook.com/official.faith.hunter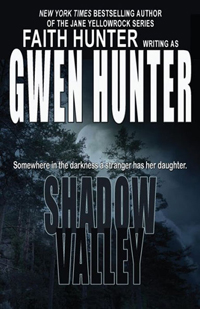 SHADOW VALLEY
Author: Gwen Hunter
(aka Faith Hunter)
2015 Reissue Edition
Retail: $15.95US
5.5"x 8.5" Trade Paperback
ISBN 978-1-62268-083-2 print
ISBN 978-1-62268-084-9 ebook
LCCN 2015934285
buy the book >>>
read an excerpt
book details
cover detail

To purchase from your local independent bookseller click here:


Purchase at amazon.com


Purchase at barnes&noble.com


Purchase at booksamillion.com:



NOTE TO BOOKSELLERS:
All Bella Rosa Books titles are available through Ingram, Baker & Taylor, Brodart, Follett, BWI, The Book House, Inc., Emery-Pratt, Ambassador Books.
Booksellers, Schools, Libraries, and individuals can also purchase direct from Bella Rosa Books. For quantity discounts contact sales@bellarosabooks.com .