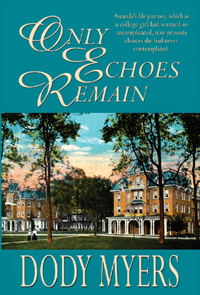 ONLY ECHOES REMAIN
Author: Dody Myers
2013 First Edition
6"x 9" Trade Paperback
Retail $14.95US; 216pp
ISBN 978-1-62268-022-1 print
ISBN 978-1-62268-035-1 ebook
LCCN 2013934744

read an excerpt >>>
book details
cover detail
buy the book
ONLY ECHOES REMAIN
Author: Dody Myers

---
CHAPTER ONE
August 23, 1882 was a scorcher—ninety-two degrees in the shade by midmorning, air like a sodden blanket. On St. Simons Island lumber men worked in undershirts, business men loosened their collars and fanned themselves with wide-brimmed straw hats, and women in long bathing costumes led children into the sparkling foam of the ocean off the Georgia coast. Clam diggers strolled by with buckets full of quahogs and littlenecks. A pair of sandpipers skittered along the incoming tide so fast their little stick legs left only scratch marks on the hard sand. On the beach a young man and a girl walked hand in hand at the edge of the surf. Calm surf, belying surf that within hours would become a roaring monster. The girl, Amanda Kennedy, was nineteen, short, with blue eyes, and a softly rounded chin often thrust out in defiance. Today her hair, a rich chestnut, was gathered and tied at the nape of her neck to keep it from flying in her eyes. She was from Pennsylvania, a Junior at Wilson College in Chambersburg. She was visiting the boy with her aunt and uncle during summer break. The boy, Michael McKenzie, lived on the island. He was twenty-one, his sun-bronzed skin and high cheek bones hinting at his Native American heritage. He had a strangely sweet grin that was at odds with strong Lincolnesque features.
Amanda and Michael picked their way over small, broken shells and jellyfish on sand that was damp and rippled from the tide. They strolled slowly toward the lighthouse which guarded the southern tip of the island and guided high-masted ships through the channel that separated St. Simons from Jekyll Island. As they walked Amanda noted the numerous summer cottages that had sprung up along the beach, a fact that boded well for Michael who was building a resort hotel on his stepfather's former plantation. Dune grass swayed in a sudden gust of welcome wind. They walked along the edge of the incoming tide and Amanda threw back her head and laughed as they jumped to avoid the long rolling swells rising from the ocean bed. Cirrus clouds braided a pale sky, the tang of salt wafted on the air, the wind began to quicken, and the sun hung like a copper globe over a sea turned glassy. Occasionally shrimp fishermen shouted from boat to boat or the lighthouse horn sounded its mournful call. But, overall, there was eerie stillness. No gulls or shorebirds were to be heard. Old timers nodded their heads; animals were always the first to sense a disturbance in the weather.
Michael pulled out his gold pocket watch and flipped it open. "It's getting late," he said. "Maybe we should turn back. My father said he would like to leave for Savannah before noon. Grandma is expecting you for dinner tonight."
"Are you certain you can't join us? We've had such a short time together," Amanda said. Her dark hair loosened in the stiffening wind.
"Dang it all, Amanda, I just can't. They are going to deliver the hotel rugs today and I must be here to make sure they're the ones I ordered." Michael's shoulder-length hair snapped in a sudden gust of wind and he pushed it back. "Crazy weather," he muttered, glancing out to a quickening sea where white caps were beginning to appear and a boat zipped along, sails billowing.
This stretch of the beach was almost deserted and Michael put his arm around her waist. She felt lightheaded—free as the sun and wind, free as a child. She turned to look at his bold profile. He stopped walking and pulled her to him. They kissed. His hand slid down her back and she felt a flash of heat so intense it rocked her.
"Stop Michael. People will see us," Amanda said with mock firmness, pushing him away, fighting to hide a coy smile.
"Not on this beach, they won't." He laughed and pulled her back into his arms. Since he was taller than Amanda by a head, her face nestled comfortably against his chest.
"Um," she murmured. "You smell good . . . like sunshine and salt."
He drew himself up to his full height, while a look of stern pride settled on his face. They stood that way for several minutes, then he took her hand and guided her to a pair of wooden steps leading from the boardwalk down to the beach. They were barefoot, the soft sand beyond the tide line griddle-hot. "Let's sit here for a while," he suggested. He brushed sand from one of the steps and Amanda hiked up her long skirt and slowly sat down.
"Lord, is it always this hot?" she asked with a helpless gesture, fanning herself with her hand.
Michael grinned. "Sometimes it's hotter."
"Don't you miss the change of seasons? I would miss that more than anything."
"Well, on the coast of Georgia and the sea islands of the Carolinas, we do get a sort of seasonal change; but our seasons are different from fall and winter in the north. The change is more subtle. The weather stays warm but not hot. The sea and sky turn a deeper blue, the sun more golden, the marshes turn tawny and luminous. It's beautiful in its own way."
They sat side by side, shoulders touching, watching a sun-tinted sea caress the shore. Michael's strong fingers squeezed hers. The odd light slanting across his high cheekbones was incandescent and arresting. He was striking. The slant of sun showed bronze skin tanned golden, dark eyes under strong brows black as licorice. His hair was black and shiny, along with his beard which was new and tidy. She wouldn't call him handsome, but then she knew that she was not beautiful. She was plain with plump arms and legs, her only exceptional features, thick-lashed, blue-violet eyes. Michael was an extrovert while she was somewhat of a loner. Her desire for education, coupled with her terrible feeling of inferiority due to her birth, set her apart from others. Her eyes stung and filled with tears as she remembered.
She was seven when she first heard the word bastard. She had run home from school sobbing and burst into the kitchen where Ila, their cook, was stirring cake batter. "What does bastard mean?" Amanda asked, her eyes brimming with tears. "Some fat boy at school said I was a bastard and couldn't play with them."
"Thet not a nice word," Ila said as she increased the rhythm of her spoon against the crockery bowl. "Lawd, chile, I thinks o' you more like the gift of an angel from heaven. Ask yo' mama. It gots more to do with you daddy than you."
But her mother pushed her questions aside. Somehow, even then, Amanda didn't think her mother thought of her as a welcome gift. No one ever spoke of her father. Now that she was older, she knew why.
Michael looked at her with a lopsided grin. A smile crinkled the skin around his dark eyes and made her heart leap as it had since they were children and he had come north to live with Uncle Ford and Aunt Abby.
"I think we should get married as soon as the hotel opens," he said. "I miss you and want you with me."
"We made an agreement, you know," she reminded him. Amanda caressed his fingers one by one as she talked. "You promised I could finish college."
"Yes, I know. But I'm terribly lonely and in addition to being an excellent hostess you will make a fine wife and mother."
Amanda frowned, her lower lip caught between her front teeth. Hostess? Wife and mother? Is that all her education would equip her for? She didn't quite care for his choice of words. If Michael had a fault, it was his old-fashioned view of women.
He had traveled south two years ago and found his stepfather's old plantation home in ruins from the Civil War. A dream was born. He would not return to Pennsylvania to continue his college education, instead he would stay at St. Simons, rebuild the plantation home into a resort hotel and run it as a family business. Sometime in the near future he and Amanda would marry and start a family. He had it all figured out.
Amanda felt a butterfly of unease in the pit of her stomach.
Michael kept his gaze on the sea as he lifted a fold of her blue skirt and slipped his fingers onto her knee. With his other hand he rubbed his new beard and pretended nonchalance. Amanda fought to hide a smile. She witnessed a light pattern of red spread its way across his cheeks and beads of sweat on his lip that she suspected did not come from the sun.
They sat a while longer. "We should say good-bye here," he said. "Everyone will be watching back at the hotel."
"It won't be for long this time," Amanda said. "The whole family is planning to come down in October for the grand opening. The college has agreed to let me off for the entire week. Then too, my mother has arranged to get time off from work and she is taking Erin and Eliza out of school."
She jumped up and lifted her long skirt to shake away the sand. "We'll get married . . . but only after I graduate. You promised." She pulled him to his feet. "Come on, now, slowpoke. I'm not too grown up to race you home."
* * *
That afternoon the tears that Amanda had fought to contain when she kissed Michael good-bye streamed down her cheeks. She climbed into the carriage with her aunt and uncle for the trip across the island to catch the ferry to the mainland. They planned to visit Ford's mother in Savannah for two days, then return home to Pennsylvania. Aunt Abby put her arms around Amanda and hugged her. "I know it's hard, dear, but the time will go quickly," she said.
"I feel so guilty, Aunt Abby. Michael wants to get married now and I want to finish college." Her chin lifted in an arc of decisiveness. "I do love him. I'm just not ready."
"And neither is he, if he would only admit it. Getting a new hotel up and running is a huge undertaking. I imagine it will be several years before it provides him a living."
"And then some," Ford interjected from the front seat. He glanced up at the sky. "I think we are getting out of here just in time. A storm's coming. And the island is no place to be in a northeastern blow."
Ford was right. Building on a barrier beach is toying with nature. It is on borrowed land, on a loan from the sea. St. Simons is a spit of land separated from mainland Brunswick on the west by an extensive system of salt marshes and sounds and on the east by the mighty Atlantic. It is the largest of the barrier islands along Georgia's coast—shaped and constantly changed by pounding surf and ocean winds.
But St. Simons had a romantic history and Amanda was slowly falling in love with the charming island. During the 18th century it served as the sometimes home for John and Charles Wesley, chaplains at Fort Frederica and founder of the Methodist Church in America. Fort Frederica, on the northern tip of the island, was the military headquarters for General Oglethorpe during the early colonial period and served as a buffer against Spanish incursions from Florida. During the early 1800s the island was cultivated by English colonists for rice and cotton. The plantations were worked by large populations of African slaves, then destroyed and burned during the Civil War. In the years following the war the coastal islands were in critical condition. Many plantations had been destroyed and the owners suffered financial ruin. Now it was struggling to find a new identity. In 1874 Norman Dodge and Titus Meigs, two millionaires from New York City, decided to start a lumber mill on St. Simons and bought the plantation of James Hamilton Cooper on the Frederica River at Gascoigne Bluff. At present there were four mills operating for which the lumber was cut "up country" and floated on rafts down the Satilla and Altamaha Rivers. Two thousand southern live oak trees had been harvested on St. Simons to build the USS Constitution better known as "Old Ironsides." The Dodge, Meigs Mills were very successful and in 1878 they supplied the oak for the roadbed of New York's Brooklyn Bridge.
The era of long-stem cotton and elegant plantation life was gone, replaced by lumber and the emergence of a tourist industry. Ships came to the island from England, South America, and Maine, and their ballast was unloaded on the Mackay River. The Captains of the vessels often brought their wives and children with them to enjoy the wide sand beaches and they began to buy the seaside cottages. Now, tourism was making its debut. People from Atlanta had discovered the island for vacations and it was an excellent stopping point for travelers on their way to and from Florida.
Because the island lay in a curve of the coast line, well east of the gulf stream, hurricanes were practically nonexistent. Still, it was a barrier island and the term "barrier" refers to the protective role the islands and their marshes play in shielding the mainland from oceanic storms. But on this weekend it was to fail miserably in its prescribed role.
* * *
Amanda had been gone for only an hour and Michael missed her already. He left his lunch half-eaten, crossed through the main dining room, and stepped out the French doors to the veranda extending along the front of the hotel facing the sea. His brow puckered as he gazed at the turbulent water. He was concerned, but not yet alarmed. The incoming tide was unusually high and should have turned by now. Exceptionally long ocean swells were flattening the dunes. A gale force wind had begun blowing hard from the north to the east and as soon as his parents and Amanda had left for Savannah it began to rain. He felt a slight quiver of uneasiness when a sharp gust whipped his jacket open and tore at his long black hair. The sudden shift in weather confused him, the day felt heavy, the sea a sulky gray, the sky a strange greenish-yellow. He knew he had better secure the hotel boat before things got worse.
Michael ran down to the landing. Braving the hammering rain he backed the boat away from the dock and rowed toward a large cedar tree growing on the bank. He dropped the anchor into its massive roots—they would hold better than sand. Moving quickly he rowed back to the dock, trailing the anchor line behind him. He picked up the bow line and secured it to the boat then rowed back to a place halfway between the tree and the dock where he tied it off Indian fashion, like a hammock, clear of any objects that could cause damage.
Satisfied that the boat was safe he returned to the hotel to finish lunch. As he drained his coffee, the mantle clock chimed the hour. The hands of the clock showed that the tide should have turned an hour ago. Alarmed now, he pushed his chair aside, rushed over to the windows facing east and peered through the streaming glass. By this time the sea had risen to the lower part of the landscaped terrace threatening the newly planted heirloom roses. On the section of the veranda encircling the front of the hotel the keening wind had ripped out the wisteria vine and toppled the trellis. In the distance he saw his foreman, James, slinging mud with a shovel beside the drainage ditch bordering the north field. He was apparently not making any headway trying to divert the incoming tide.
Michael ran out to the kitchen pantry, snagged a rain slicker from a peg on the wall and rushed into the yard. He hit the sodden front lawn running, his boots sinking into the soaked turf as he squelched through the mud to help his servant.
Sweat and rain made rivulets on James's black face. "Masta Michael, that tide ain't turned. Water's running up the ditch fast as it should be runnin' out. It blowin' up a hurricane that be for sure."
"Hurricane" was like a foreign word to Michael, a Northerner since a child. He had only read of the tropical storms and certainly never experienced one. His stomach churned. Oh, God, not a hurricane. Not now. They were booked solid for the opening in October. By now the water was over most of the yard and still rising. "Better round up the chickens and get them into the stable," he yelled into the howling wind. "I'll help."
In the barn the agitated horses were snorting and pacing in their stalls and several squabbling wild turkeys had banded together in a dark corner. He and James chased the chickens inside, filled the feed buckets with extra oats, and tried to calm the skittish horses. Rain pelted the tin roof and crept under the door. He fed a carrot to his stallion, Hobie, and on impulse kissed his muzzle. "Everything's going to be fine," he whispered. "It's just a bad rain storm." But by now Michael knew it was more than that. What he didn't know was that most hurricanes attack with three weapons: swirling winds, heavy rain, and waves so high that at first glance they may look like a fogbank. This storm had all three.
Up until this time, although blowing a brisk gale, the wind was not causing any major damage. Now each gust became more frequent and seemed stronger than the preceding gust. The sea had begun to churn and the tide still had not turned. Water slithered up the beach and seawall, gathering into pools where Michael had never seen it before.
"I think that's all we can do for now," Michael yelled into the wind. "Better get inside before this gets worse."
A stray chicken ran ahead of him and he drove it onto the kitchen porch. Surprisingly the chicken obeyed and a memory came over Michael of Penelope, Amanda's pet chicken, who used to follow him everywhere. Please, he prayed, let my family be north of this storm.
He went into the hotel and changed into dry clothing while James' wife, Matilda, ground some coffee beans and brewed a pot of coffee. Carrying a steaming mug of the fresh brew in his cold hands Michael opened the kitchen door and stepped out onto the side porch. He gasped when he saw how far the water had advanced onto the yard. It would soon cover the steps. Matilda appeared at his side and he heard her groan.
"Lawd a mercy, looka that. I thinks it be a good idea to take bread and food from the storeroom to one o' the upstairs bedrooms 'case that water keep a comin."
"It is past time for high water. The tide will surely turn now."
"Tell that to them poor little critters huddlin' on our porch," Matilda muttered, pointing to several pigs, two peacocks, and a groundhog whose home was undoubtedly under water.
Matilda is probably right, Michael thought, his stomach tightening into a tight ball. He hurried inside. "Get James, then, and we'll carry what we can to the second floor."
Water was now rushing into the storeroom, various items already beginning to float about. The three of them turned their attention to the flour barrel and hefted it onto a table. Meanwhile the distressed chicken was making the most ear splitting squawks Michael had ever heard. James went over and took it from a floating cardboard box where it had gone for protection. He put it on the window sill.
The water had now reached their knees and still rising. "Help me in the dining room," Michael shouted as he waded out of the storeroom and back to the kitchen. Matilda stopped to put the chicken in an empty pot on top of the stove. "Now you stay put," she said with a scorching look. "I ain't a gonna cook you. Yet."
Michael rushed through to the dining room. His heart sank when he saw water already swirling around the legs of the substantial mahogany table. The table and refurbished chairs were family heirlooms, a gift from his grandmother in Savannah for the grand opening of the hotel. "We can't move the table but we must get those chairs up off the floor," he said to James. They hefted the antique chairs, upholstered in a beautiful blue and gold tapestry, onto the table while Matilda began moving the sterling silver tea set and other valuables to the fireplace mantle. When the chairs were all elevated, he grabbed the new table linens from the sideboard drawers, ran up the stairs and dumped them on the bed, then started down for another armload. There would be time to sort everything later.
He was still on the stairs when he heard the shattering sound of glass breaking and the dining room windows burst in with an explosion of wind and water. Glass flew everywhere, the sideboard went over, the table with its load of chairs slammed against the wall with an unbelievable grinding and clatter.
"We all gonna be drown'd," Matilda screamed as she thrust a crystal vase high above her head. Michael navigated to her and grabbed her arm. The swirling water was gaining strength. He handed Matilda back to James, who was right behind him, and James slung her over his solid shoulder. Together they fought their way to the circular stairway and began to climb to the second floor bedrooms. But it seemed the water was rising faster than they could climb. The hurricane was slamming the house with its full force, the waves striking the building like a battering ram, the veranda going up and down like a bucking horse. Michael yelled, "This isn't safe. Head for the attic."
They scrambled up the narrow steps with Michael in the lead. Matilda grabbed his shirt. "I ain't goin' into that dark place," she cried in a quavering voice. "Theys haints up there."
Michael yanked himself free. "It's our only choice. The water is already on the second floor." He raced up the remaining steps and pushed open a trapdoor covered with spider webs. The attic was cramped, dark and un-floored, and Michael climbed over the rafters to a tiny window set in the western eave. By now the yard was part of the ocean, great waves chasing each other across from east to west, striking the trees with flying spray. As he watched, the chicken house lifted from its foundation and splintered into a thousand pieces. Parts of neighboring houses on Demere Road whizzed by, drawn by the demon wind. Great cedar trees, old as the nation, leaned into the wind and lay down. What his eyes saw his mind could not process and his heart refused to accept.
The boat he had secured so well went bobbing across the yard, still attached to the tree. He didn't know whether the tree was carrying the boat or the boat the tree. It seemed to be nip and tuck with them.
"Pray . . . pray," Matilda groaned from the attic stairway, firmly refusing to budge as the house trembled and shook.
In an instant there was a horrendous screaming noise as the roof buckled and let go, separating from the main body of the hotel and disappearing. Michael was blown through the opening and hurled into icy water. Desperately, he tried to swim but it was impossible in such churning foam. A piece of the roof banged against him and he grabbed it and hung on, working his arm through the V of a rafter still attached to the slate tiles. With a mighty effort he hoisted himself onto the temporary raft and struggled to keep the roof balanced. Rain, broken shells, and splintered driftwood lashed his face. The debris churning in the water was as menacing as the sea.
He was not alone. Rooftop rafts floated by, carrying children, dogs, and all manner of humanity. In seconds the force of the wind and water had transported him toward all that remained of a fishing dock, the splintered pilings like broken arrows ready to impale him. If he survived the waves, Michael was afraid he'd be dashed to pieces against the wreckage. Abruptly the wind veered and his raft was slammed against one of the huge live oaks still standing. He reached out and grabbed a branch, hanging on with every ounce of his remaining strength. It seemed like forever but it was only seconds before a wave threw him off the tree into a mass of drift where he lay, more dead that alive. Saltwater stung his eyes and clogged his throat. He vomited into the debris.
He lay there in the dreadful tempest of wind and rain, shaking and praying as he had never prayed before. He tried to yell for help but he seemed to have no voice left. His tears streamed down his cheeks as he realized the enormity of what had happened. Were James and Matilda still alive? Had Amanda and his family safely reached Savannah? Was anything left of the resort and his two years of labor? He lay half-buried in mud, fishing tackle, clamming rakes, barn doors, bits of carriages, dead birds, dogs, and cats for what seemed like hours. When the eye passed, and the storm delivered its final blow, people began moving about. A young boy saw him and went for help.
Several men dug him out and though considerably shaken none of his bones were broken. The water fell rapidly as the tide turned and the wicked wind moderated into a gentle breeze. he sought shelter and it was dusk before he could hobble across the island and up the beach toward what might be left of his hotel. The agonizing walk showed the damage to the sea shore, all the pretty cottages, bath houses, and docks were piled in one inextricable heap next to the woods. Houses sat in every imaginable condition, their yards full of broken furniture, carriages and animals. Some had the entire front wiped away, roofs were gone, or nothing was left standing but the chimney.
He staggered along, stone-cold, clothes muddied, bedraggled hair stuck with sand, face blackened with grime, legs bruised and bleeding.
It seemed as though nothing had been too heavy or strong to withstand the action of the waves. Michael's eyes stared with fascinated horror as several men tried to rescue two dolphins that had been washed ashore. A large ship had been left high and dry on Beachview Drive and the masts of other sailboats tilted at sickening forty-five degree angles. As he neared home he broke into a run, gulping air furiously, desperate, yet afraid, to see the end of his driveway. The roadway was choked with downed trees and he had to climb over a mass of drift before spotting the hotel. Built of tabby—a concrete-like mixture of lime, sand, and seashells—it was still standing though mangled and roofless, its porches gone. Hundred-year-old oaks were flat, their limbs crossed and tangled in every direction, while mingled with them were the remnants of chairs, tables, linens and crockery.
Thankfully, James and Matilda were alive. He could see them already busy trying to salvage what they could. Heart leaping, he limped to their side.
"Praise the Lawd, it's Master Michael," Matilda cried, wiping her face with her torn, muddy apron.
Reeling with unfettered joy he swept her into his arms. "God, I'm glad to see you alive. How did you make it?"
James smiled broadly. "When da roof sailed away with you on it, we tied ourselves together with ma rope belt an' climbed through the bedroom window. We grabbed on to a floating tree that came to rest halfway up Demere Road an' jest sat in dat ole tree till the storm over."
Michael looked around. It was hard to assimilate the damage wrought by the hurricane. Every outbuilding was either washed from its foundation, or blown away. The yard was a scene of complete devastation and ruin, debris several feet deep in places. The hotel was roofless and flooded. The parlor furniture, including the fine new piano, was strewn over the beach. They found the boat, hard and fast, in the limbs of a tree on the edge of the myrtle hammock. Dead animals, both wild and domestic, lay everywhere. Michael's stallion, Hobie, and the two carriage horses were gone. A chicken, stripped of its feathers, limped across the lawn. Gulls and pelicans by the score had sheltered themselves about the hotel and after the storm waddled feebly into the ocean, unable to fly. Life or death seemed as random as the flip of a coin.
"Have we any livestock left?" Michael asked.
"Coupla our pigs was floundering in mud up to their bellies," Matilda answered. "James got 'em free. I been catching what chickens we got left and givin' 'em a good dunking in dat tub o' water."
"Well, come with me," Michael said to James. "I just passed several men trying to turn some endangered dolphins back into the water. I didn't stop because I was anxious to find you and Matilda and assess the damage to the hotel. Maybe we can help them."
"But you hurt, Masta Michael. You need cleanin' up," Matilda cried, shaking her head.
"I can wait. The dolphins can't." With that he turned and began to hurry down the beach, James behind him. The dolphins had been returned to the water but he saw men digging in piles of debris looking for people who might be trapped. Michael and James joined them, working by lantern light until Michael was too exhausted to stand. He draped his arm across James' shoulder and staggered back to the hotel.
Matilda had placed straw pallets on the floor of the butler's pantry—surprisingly intact after the storm—and Michael collapsed into the nearest one where he fell into exhausted sleep, muddy clothes and all.
* * *
The next day the sun was warm, the sky clear, the blue water sparkled back in its bed. But on land, desolation was everywhere. Michael started James and Matilda clearing away the rubble around the hotel while he set off for the mill to see if he could purchase some tar paper to give temporary protection where the roof was missing. As he drove his wagon down Demere Road, he was appalled to see that there was absolutely nothing left of John Gould's house except the chimney.
Several men he recognized from town were poking through the debris as though looking for something. "Where are the Goulds?" he asked.
"Out with a search party. Their children, little Jimmy and the baby, are missing. Mary was in the nursery with them when the wind blew out the window and sent the trunk of a cedar tree flying through the opening. It knocked her unconscious and the house just exploded from the wind. We can't find the little ones."
"Where are they looking?"
"In the marsh, yonder, while the tide is out."
Although still overwhelmed by his own disaster Michael realized the loss of family members would be far worse. He had been so wrapped up in the damage to his beloved hotel he had not given enough thought to the human carnage occasioned by the storm. He felt sick to his stomach. God demanded more of him.
In the distance he could see searchers spread out across the marsh and he immediately set out at a run to join them. He spied Mr. Gould wading through a narrow channel poking the shallow water with a long pole.
"Has anyone searched the beach?" Michael yelled.
"Not yet. The hurricane was moving this way."
"I'll go down along the dune line and look. Children are light and the wind fickle. The outgoing tide could have carried them toward the sea."
Michael retraced his steps to the beach and soon spotted several other search parties combing through the rubble lining the shore. He joined one group of men who informed him that three people were missing from the village as well as numerous pets. Feverishly they dug through stranded seaweed, tangled palm fronds and sodden Spanish moss. All of a sudden a shout rang out and everyone paused.
"The Gould children have been found," cried a man running along the beach.
"Are they all right?" several people shouted.
The man skidded to a stop. "Both dead," he said.
A sob caught in Michael's throat and he sank to his knees, his fists convulsing with suppressed rage. Where was justice in all of this? Where was God? A friend of his from the village approached him and placed a hand on his shoulder. "Rough it is," he murmured. He handed Michael a length of iron. "But we must keep digging in those downed trees. We've still got people missing."
They continued to work feverishly and silently. The dead body of a woman was recovered but she had thrown herself over her baby and miraculously the child was still alive. It was verging on dusk and lanterns were lit, but still they searched. At last, dog-tired and dejected he returned to the hotel where James was constructing a temporary coup for the surviving chickens.
"Let that be and go find Mr. Gould," Michael said. "Tell him he and his wife are free to live here till they can rebuild. They will want to be handy to their land."
"Did the mill have any tar paper left?"
"Truth be, James. I never got there."
"Probably all gone now."
"There is always tomorrow. God was good to us . . . all we lost were material things. Many people lost their lives."
"Still, I gonna add a little prayer tonight that He send no mo' rain till we get things covered up a bit."
Michael gave him a bittersweet smile. "You do that. And you might add a little footnote that the banking gods will see fit to direct some money our way to begin rebuilding."
As James walked away, Michael lowered himself onto the limb of a fallen tree and flexed his aching shoulders to ease the rigors of the long day. He sat absolutely still, listening intently to the noises of the night, the pounding of the surf, the small scuffing of nocturnal creatures, the slap of a lanyard against a wooden mast in gusting wind. An occasional shout could be heard from men still searching the beach. He held his head in his hands and squinted into the distant star-studded sky.
Had he the will to start over?
copyright ©2013 Dody Myers