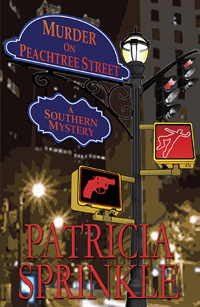 book details >>>
read the first chapter
larger view of cover
buy the book
MURDER ON PEACHTREE STREET
—A Southern Mystery
Third in the Sheila Travis series
Author: Patricia Sprinkle
2016 Reissue Edition
5.5"x8.5" Trade Paperback
Retail: $15.95US
ISBN 978-1-62268-045-0 print
ISBN 978-1-62268-046-7 ebook
LCCN 2016938445
MURDER ON PEACHTREE STREET
—A Southern Mystery
Third in the Sheila Travis series
Author: Patricia Sprinkle
---
Prominent television personality Dean Anderson was as popular as he was respected, but he had incurred a good deal of animosity among family, friends and co-workers. Though the police are willing to rule his shooting death a suicide, his old friend Sheila Travis is not.
As usual, it's irrepressible Aunt Mary, a perpetual busybody, who manages to get Sheila involved in finding Dean's killer. The list of suspects is long as it is remarkable: a resentful ex-wife, an enraged daughter, a jealous, vindictive co-worker, a mobster with a grudge. The truth goes deeper than either Aunt Mary or Sheila suspects. And it may prove equally fatal.


---
"Engaging . . . Compelling . . . A delightful thriller."
—Peachtree magazine
"Sparkling . . . Witty . . . A real treat and as refreshing as a mint julep, a true Southern pleasure."
—Romantic Times
About the Author

PATRICIA SPRINKLE draws on her deep Southern roots to write three Southern mystery series. For a complete list of titles, see www.patriciasprinkle.com. She now lives in Oregon, and when she's not writing, likes to read, swim, work with children, and do nothing.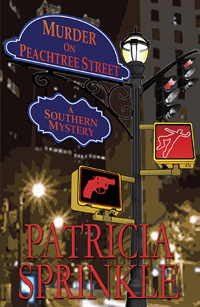 MURDER ON PEACHTREE STREET
—A Southern Mystery
Third in the Sheila Travis series
Author: Patricia Sprinkle
2016 Reissue Edition
5.5"x8.5" Trade Paperback
Retail: $15.95US
ISBN 978-1-62268-045-0 print
ISBN 978-1-62268-046-7 ebook
LCCN 2016938445
buy the book >>>
read the first chapter
book details
larger view of cover
To purchase from your local independent bookseller click here:


Purchase at amazon.com


Purchase at barnes&noble.com


Purchase at booksamillion.com:


NOTE TO BOOKSELLERS:
All Bella Rosa Book titles are available through
Ingram, Baker & Taylor, Brodart Company, Book Wholesalers, Inc. (BWI),
The Book House, Inc., and Follett distributors.

Booksellers, Schools, and Libraries can also purchase
direct from Bella Rosa Books.
For quantity discounts contact sales@bellarosabooks.com .