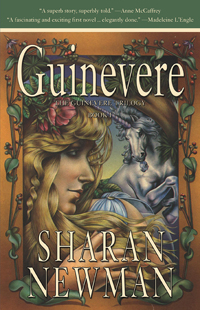 GUINEVERE
The Guinevere Trilogy (Book 1)
Author: Sharan Newman
2014 Reissue Edition
5.5"x 8.5" Trade Paperback
Retail: $14.95US; 240pp
ISBN 978-1-62268-060-3 print
ISBN 978-1-62268-061-0 ebook
LCCN 2014935713

synopsis >>>
read an excerpt
cover detail
buy the book
GUINEVERE
The Guinevere Trilogy (Book 1)
Author: Sharan Newman

---
In the first volume of her Guinevere trilogy, Sharan New man tells the story of the golden child whose dearest friend is a saint who hears spirits singing; of the gentle-hearted woman who begins to dream of love, glory, and the fierce, proud king who will become her husband; of the passionate beauty whose name will be remembered and hated for centuries.
Sharan Newman portrays Guinevere with all the charm, skill, and erudition that have won her the hearts of readers and the admiration of critics for her Catherine LeVendeur medieval mystery series. In Guinevere, Newman offers a reinterpretation of the Arthurian saga and as memorable as The Mists of Avalon and The Hollow Hills.


---
Praise for GUINEVERE
"A superb story, superbly told."
—Anne McCaffrey

"A fascinating and exciting first novel ... elegantly done."
—Madeleine L'Engle
About the Author >>>
Sharan Newman is a medieval historian and author. She took her Master's degree in Medieval Literature at Michigan State University did doctoral work at the University of California at Santa Barbara in Medieval Studies, specializing in twelfth-century France. She is a member of the Medieval Academy, the Authors Guild and Mystery Writers of America.
Her seventeen published works of fiction include three novels of historical fantasy about Guinevere, and the acclaimed Catherine Le Vendeur historical mysteries. Her novel, Death Comes as Epiphany won the Macavity Award for Best First Novel in 1994. She has won several other awards for her historical mysteries. She also wrote "The Real History" series exploring the facts and myths about the Da Vinci Code, the Crusades and the End of the World. Her works have been translated into eleven languages.
For more information, visit www.sharannewman.com
Sharan Newman reprints from Bella Rosa Books
The Guinevere Trilogy:
GUINEVERE
THE CHESSBOARD QUEEN
GUINEVERE EVERMORE
Catherine LeVendeur Mysteries:
STRONG AS DEATH
CURSED IN THE BLOOD
TO WEAR THE WHITE CLOAK
THE DIFFICULT SAINT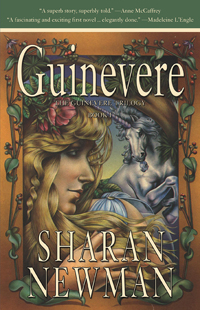 GUINEVERE
The Guinevere Trilogy (Book 1)
Author: Sharan Newman
2014 Reissue Edition
5.5"x 8.5" Trade Paperback
Retail: $14.95US; 240pp
ISBN 978-1-62268-060-3 print
ISBN 978-1-62268-061-0 ebook
LCCN 2014935713
buy the book >>>
book details
read an excerpt
cover detail

To purchase from your local independent bookseller click here:


Purchase at amazon.com


Purchase at barnes&noble.com


Purchase at booksamillion.com:



NOTE TO BOOKSELLERS:
All Bella Rosa Books titles are available through Ingram, Baker & Taylor, Brodart, Follett, BWI, The Book House, Inc., Emery-Pratt, Ambassador Books.
Booksellers, Schools, Libraries, and individuals can also purchase direct from Bella Rosa Books. For quantity discounts contact sales@bellarosabooks.com .