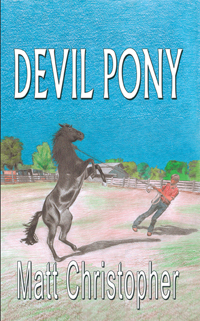 book details >>>
larger view of cover
buy the book
read an excerpt

A Matt Christopher Adventure Classic

DEVIL PONY
Author: Matt Christopher
2014 Reissue Edition
Retail: $9.95US; 108pp
5"x 8" Trade Paperback
ISBN 978-1-933523-50-7
ISBN 978-1-62268-085-6 ebook
LCCN 2014922279
"He's everything I dreamed he'd be!" exclaimed Stu Bancroft when he saw Midnight, the horse he and his sister Sally had been promised when the horse was just a foal. Now Midnight was a year old and Stu and Sally were to bring him home at the end of their vacation at their uncle and aunt's ranch house. But their visit takes some unexpected turns when mysterious events suddenly start happening.
When Stu first mounts Midnight, the pony throws him. Why? Then other "accidents" occur: a vase falls in the house and breaks for no reason and a saddle slips before their eyes from the wall in the stable. Cousin Wilbur has an explanation—it was the return of the Bancroft Poltergeist—but Cousin Wilbur himself was acting strange. Could his ghostly explanation be trusted? Stu's love for Midnight makes him determined to find the reasons behind these mysterious events, a determination that helps create a summer that Stu and Sally would never forget.
About the Author:
Everyone knows Matt Christopher as the most prolific and bestselling sportswriter for children and young adults. From books on football and baseball to soccer and skateboarding, his work has spanned three generations of readers.
He has also written several Mystery/Suspense/Adventure novels which showcase his exceptional storytelling ability. His mystery books are sure to delight everyone--young and old:
EARTHQUAKE, DESPERATE SEARCH, DEVIL PONY, STRANDED, LOOK FOR THE BODY, THE MYSTERY UNDER FUGITIVE HOUSE, THE MYSTERY ON CRABTREE HILL, THE MYSTERY AT MONKEY RUN.

Visit the author's website at: www.mattchristopher.com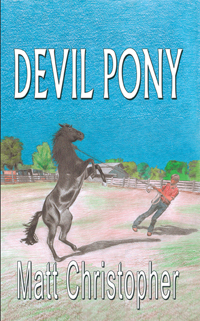 DEVIL PONY
Author: Matt Christopher
2014 Reissue Edition
Retail: $9.95US; 108pp
5"x 8" Trade Paperback
ISBN 978-1-933523-50-7
ISBN 978-1-62268-085-6 ebook
LCCN 2014922279
buy the book >>>
read an excerpt
book details
larger view of cover
To purchase from your local independent bookseller click here:


Purchase at amazon.com


Purchase at barnes&noble.com


Purchase at booksamillion.com:


NOTE TO BOOKSELLERS:
All Bella Rosa Book titles are available through
Ingram, Baker & Taylor, Brodart Company, Book Wholesalers, Inc. (BWI),
The Book House, Inc., and Follett distributors.

Booksellers, Schools, and Libraries can also purchase
direct from Bella Rosa Books.
For quantity discounts contact sales@bellarosabooks.com .