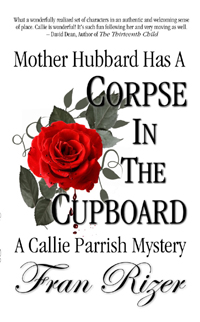 MOTHER HUBBARD HAS A CORPSE IN THE CUPBOARD
—A Callie Parrish Mystery #5
Author: Fran Rizer
2013 First Editition Original
5.5"x 8.5" Trade Paperback
Retail $14.95; 240pp
ISBN 978-1-62268-032-0 print
ISBN 978-1-62268-033-7 e-book
LCCN 2013934748
book details >>>
read an excerpt
larger view of cover
buy the book

MOTHER HUBBARD HAS A
CORPSE IN THE CUPBOARD
— A Callie Parrish Mystery #5
Author: Fran Rizer
---
Callie Parrish escapes her duties as a mortuary cosmetologist to hang out with friends, Jane and Rizzie, at the county fair, but their fun screeches to a standstill when Rizzie's Maum breaks her hip. Then Callie discovers an injured man in a storage space—worse than hurt, he's dead.
Graffiti pops up all over town—even on coffins at the funeral home. Callie hates seeing spray-painted threats against her and her new man, but she's more concerned with who shot Dr. Sparrow. Does his obnoxious bedside manner justify murder? His trophy wife is devastated by the doctor's death for too many wrong reasons.
When Rizzie's teenaged brother is accused of homicide, Callie's thrown smack in the middle of an investigation that could land her in a casket with her name sprayed on it.

About the Author >>>

Fran Rizer is the author of the Callie Parrish Mysteries. She lives in Columbia, South Carolina, near her sons and grandson. To learn more or correspond with her, visit her website: www.franrizer.com.
TWINKLE TWINKLE LITTLE STAR, THERE'S A BODY IN THE CAR
MOTHER HUBBARD HAS A CORPSE IN THE CUPBOARD
A CORPSE UNDER THE CHRISTMAS TREE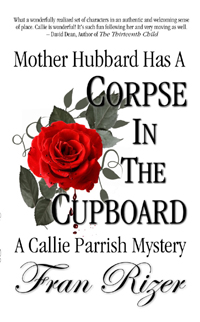 MOTHER HUBBARD HAS A CORPSE IN THE CUPBOARD
—A Callie Parrish Mystery #5
Author: Fran Rizer
2013 First Editition Original
5.5"x 8.5" Trade Paperback
Retail $14.95; 240pp
ISBN 978-1-62268-032-0 print
ISBN 978-1-62268-033-7 e-book
LCCN 2013934748
read an excerpt
book details
larger view of cover
buy the book >>>

To purchase from your local independent bookseller click here:


Purchase at amazon.com


Purchase at barnes&noble.com


Purchase at booksamillion.com:


NOTE TO BOOKSELLERS:
All Bella Rosa Book titles are available through
Ingram, Baker & Taylor, Brodart Company, Book Wholesalers, Inc. (BWI),
The Book House, Inc., and Follett distributors.

Booksellers, Schools, and Libraries can also purchase
direct from Bella Rosa Books.
For quantity discounts contact sales@bellarosabooks.com .