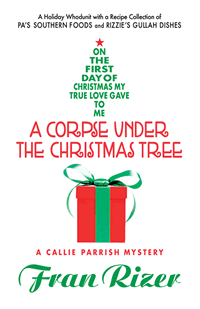 book details >>>
read an excerpt
larger view of cover
buy the book
2013 First Editition
5.5"x 8.5" Trade Paperback
Retail $14.95; 252pp
ISBN 978-1-62268-050-4 print
ISBN 978-1-62268-051-1 e-book
LCCN 2013953699
On the first day of Christmas my true love gave to me:
A CORPSE UNDER THE CHRISTMAS TREE
— A Callie Parrish Mystery
Author: Fran Rizer
---
Callie Parrish and her BFF, Jane, love presents at Christmas, but what they find under the tree isn't a gift from Santa Claus. It is Santa in person-murdered and dumped under the tree the friends decorated with much joy for the holiday season. They see this as a personal insult.
The investigation takes Callie away from her job as a cosmetician at Middleton's Mortuary and to fascinating places-especially after Sheriff Harmon makes Callie an undercover deputy. She finds clues at Safe Sister and the Turkey Trot but can't solve this case until the killer identifies both Jane and Callie as the next victims.
When her brother, Frankie, urges Callie to add recipes, she says, "No!" Everyone knows that Callie can't cook, but her brother wins, so Pa's and Rizzie's recipes appear in the back of the book.


About the Author >>>

Fran Rizer is the author of the Callie Parrish Mysteries. She lives in Columbia, South Carolina, near her sons and grandson. To learn more or correspond with her, visit her website: www.franrizer.com.
TWINKLE TWINKLE LITTLE STAR, THERE'S A BODY IN THE CAR
MOTHER HUBBARD HAS A CORPSE IN THE CUPBOARD
A CORPSE UNDER THE CHRISTMAS TREE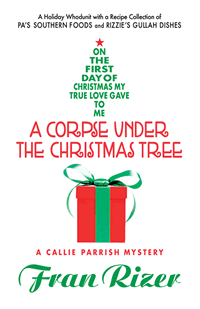 A CORPSE UNDER THE CHRISTMAS TREE
—A Callie Parrish Mystery
Author: Fran Rizer
2013 First Editition
5.5"x 8.5" Trade Paperback
Retail $14.95; 252pp
ISBN 978-1-62268-050-4 print
ISBN 978-1-62268-051-1 e-book
LCCN 2013953699
read an excerpt
book details
larger view of cover
buy the book >>>
To purchase from your local independent bookseller click here:


Purchase at amazon.com


Purchase at barnes&noble.com


Purchase at booksamillion.com:


NOTE TO BOOKSELLERS:
All Bella Rosa Book titles are available through
Ingram, Baker & Taylor, Brodart Company, Book Wholesalers, Inc. (BWI),
The Book House, Inc., and Follett distributors.

Booksellers, Schools, and Libraries can also purchase
direct from Bella Rosa Books.
For quantity discounts contact sales@bellarosabooks.com .